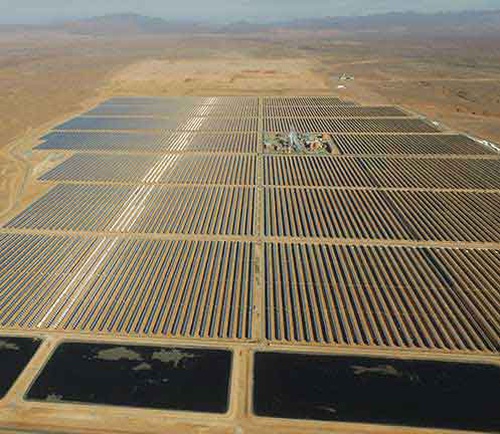 A tourism development in Saudi Arabia which will have its own international airport and hopes to attract over a million visitors each year will be 100% powered by renewable energy, with the help of a 1,000MWh battery storage facility.
The Red Sea Project will include more than 50 hotels on the west coast of Saudi Arabia and the company behind it, The Red Sea Development Company (TRSDC), has pledged that it will be fully powered by wind and solar. The project's masterplan was approved in late 2018 by Saudia Arabia's King Salman. The resort is scheduled to open in phases, with the first phase including the airport and four hotels to open by the end of 2022.
TRSDC awarded a contract this month for utilities infrastructure provision for the resort, with a consortium led by ACWA Power, the Saudi energy project investor and developer company behind some of the region's largest – and the world's lowest-cost – solar power projects. The site is expected to have an initial demand of 210MW and the consortium was awarded a 25-year contract.
ACWA Power's consortium is a public-private partnership which includes financing from Saudi and international banks, including Standard Chartered Bank from the UK and the Silk Road Fund from China. Silk Road purchased a minority stake in ACWA Power's renewables arm earlier this year. The partnership will ensure the design, construction and operation of utilities systems and associated infrastructure, including water treatment and desalination.
TRSDC representatives emailed Energy-Storage.news this week to say that the Red Sea Project will be powered 24/7 with the use of the battery storage system. The batteries will support energy resilience across the entire 28,000km2 site, including powering facilities at night-time and ensuring power if outages or other problems occur across its networks. TRSDC said that the combination of wind and solar will guarantee reliable supplies of energy.
"The size and scale of TRSDC's battery storage facility puts this iconic regenerative tourism destination at the forefront of the global transition towards carbon neutrality. Wind and solar capacity are set to exceed coal and gas in less than five years, and we are keen to drive the pace of change," TRSDC CEO John Pagano said.
At 1,000MWh capacity, the battery is among the largest planned in the world to date.
Read the July 2020 article from Energy-Storage.news, 'Finding the right role for battery storage in the Middle East', an interview with Dr Imran Syed, head of industrial power for Enerwhere, designing and implementing hybrid systems that use energy storage based in the UAE.