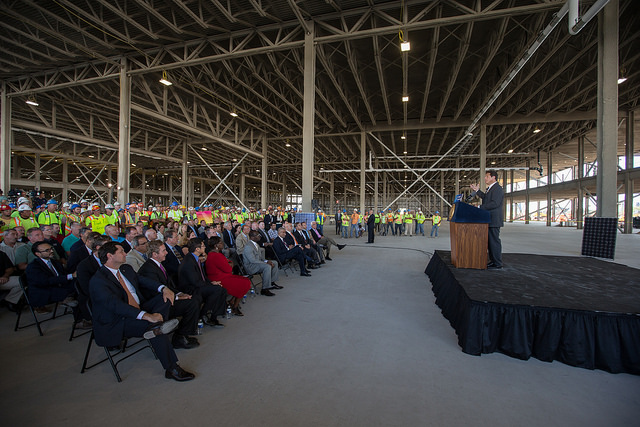 The development of systems capable of storing over six hours of energy economically is being supported in New York with an Innovation Challenge launched by the New York Power Authority (NYPA) and Urban Future Lab, a cleantech innovation centre.
Also aimed at supporting promising new technologies and business models for electric vehicles (EVs) and their related infrastructure, the challenge will support a "handful" of selected startups to support and help prepare them for working with large utilities.
New York has in place a roadmap to reach 3GW of energy storage deployment by 2030. Similarly, the state has a goal of putting 800,000 EVs on the road by 2025, in an overall long-term energy and climate strategy that also targets 40% emissions reductions based on 1990 levels by 2030.
Fitting in with this overall Green New Deal plan, State Governor Andrew Cuomo announced the NYPA Innovation Challenge last week. The deployment of 3GW of storage in New York could also support the creation of 30,000 jobs in the state.
The Innovation Challenge has been set up by utility NYPA with Urban Future Lab, which is at the New York University Tandon School of Engineering, to "recruit and support" startup businesses and help them to "successfully implement projects that benefit both utilities and ratepayers in New York State and put them on a path to more widely scaling their businesses and operations," a release from Governor Cuomo's office read. The Innovation Challenge opens to applicants in May.
At present, pumped hydro accounts for the majority of historically deployed energy storage on grids today and lithium-ion accounts for at least 90% of the US market for advanced energy storage projects. However, while pumped hydro can hold long durations of storage, it is not quickly dispatchable or responsive in the same way that batteries can be.
Conversely, the upper limit of technical and economic feasibility for lithium-ion is currently around four hours' duration. Competitors such as flow batteries of different types from different vendors and large-scale sodium sulfur batteries (currently only made by Japan's NGK under the NAS brand) are among the technologies looking to fill the gap as opportunities for eight to 10 hours of storage appear. At the Federal level in the US, the Department of Energy (DoE) launched a competition in May last year to support energy storage technologies with 10 to 100 hours' duration, with up to US$30 million available.
"Building a thriving clean energy ecosystem that supports the goals of Governor Cuomo's nation-leading Green New Deal requires ambitious public-private partnerships and collaboration," New York State Energy Research and Development Authority (NYSERDA) president and CEO Alicia Barton said.
Meanwhile, Urban Future Labs managing director Pat Sapinsley said that both NYPA and the startups involved would reap "enormous benefits" from the challenge.
"Once the startups have proven the reliability and benefit of their business offerings, it can still take years to attract early customers and to build confidence in the industry. This programme can shorten the time to commercialisation at scale, helping the utility, the early-stage company, and the climate."