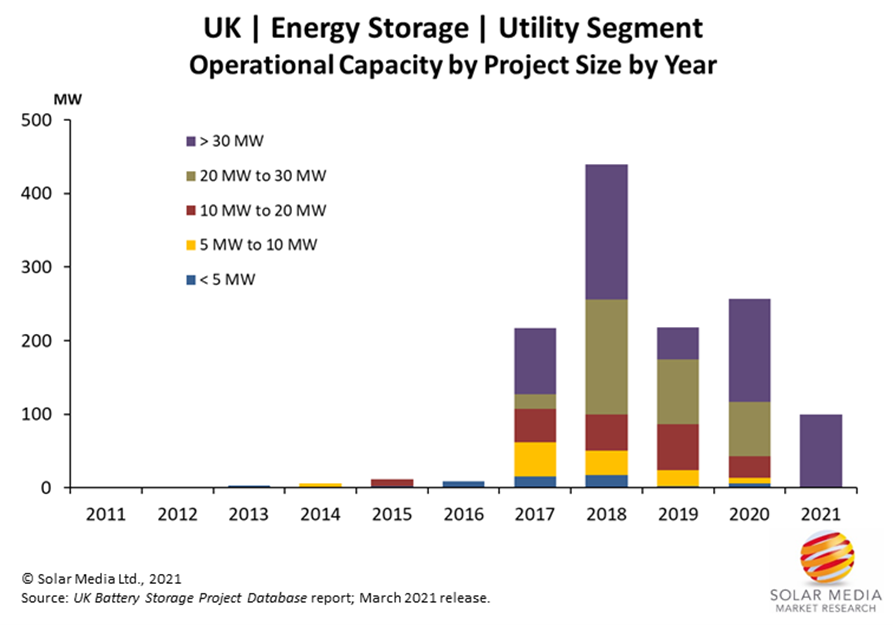 The UK reached a gigawatt of battery storage deployments in the second quarter of 2020 and the industry has 14.9GW in its development pipeline including 1.8GW of ready-to-build projects and 6.9GW with planning approvals in place.
Mollie McCorkindale, an analyst at Solar Media Market Research writes in an exclusive blog for our sister site Solar Power Portal today that although deployment during 2020 was lower than expected due to construction delays, the milestone 1GW mark was surpassed and total capacity is now close to 1.3GW.
The UK market saw a rush of projects built as deployment began in earnest from 2017, kick started by the transmission operator National Grid's 200MW auction for the enhanced frequency response ancillary service that it introduced in 2016. After a peak in 2018 and a slowdown in 2019 as the market moved increasingly towards merchant revenue business models, the next 12-18 months could see that 1.8GW of ready-to-build projects commissioned.
Mollie's blog offers a taster of a webinar Solar Media Market Research is hosting on Thursday 22 April 2021 to discuss industry trends in more detail. It is based on findings from our in-house experts' 'UK battery storage project database report' and the webinar will cover aspects of the market such as the growing average size of projects and the rise of projects co-located with renewable generation.
You can read the blog here at Solar Power Portal. Register free for the webinar here.