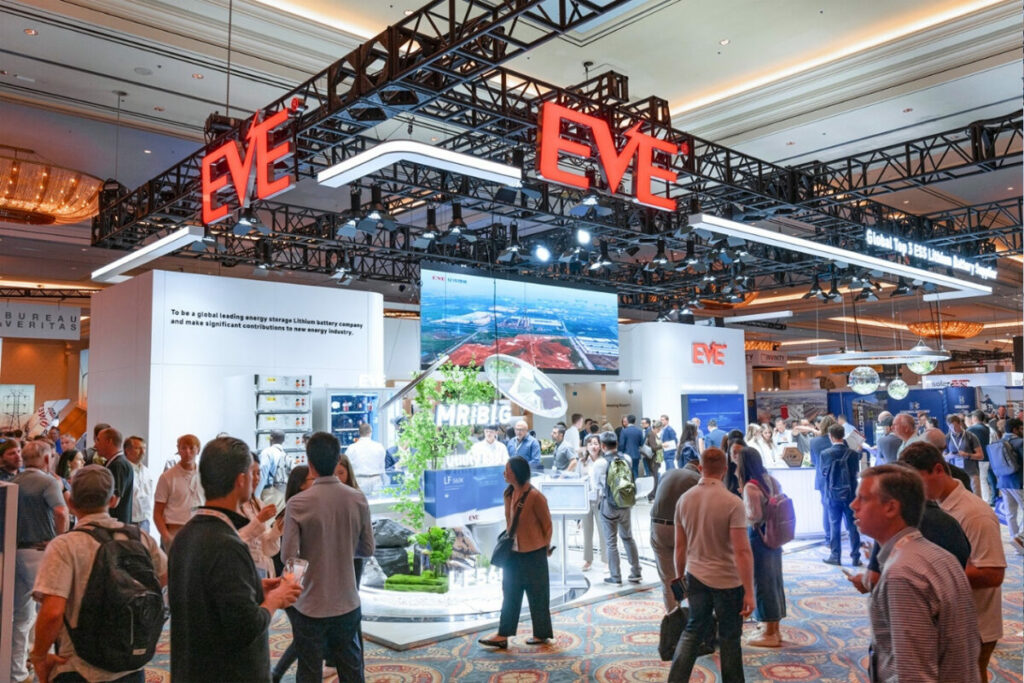 EVE Energy has taken part in the 2023 edition of RE+, showcasing its technical strength and latest energy storage products, including "Mr. Giant", a 5MWh standard energy storage system, powered by the super-sized "Mr. Big" LF560K battery.
As early as Intersolar Europe in June, EVE had already introduced the LF560K energy storage battery, boasting the industry's largest capacity. At RE+ the company also unveiled the energy storage system which, with the LF560K stacking solution, effectively balances safety and cost-effectiveness.
EVE Energy Storage CEO Steven Chen explained: "We have upgraded 'Mr. Big' – LF560K, bringing to the industry a larger capacity and higher-energy storage battery. At the same time, we have developed the 'Mr. Giant' 5MWh standard energy storage system, which is more convenient, safer and more economical. Our aim is to develop an intelligent integrated storage system that combines safety and cost-effectiveness, to address the trends of the terawatt-hour (TWh) era and resolve the complexities involved in managing large-scale power plants, issues related to thermal control and economic concerns."
EVE's "Mr. Giant" system simplifies operation and maintenance and incorporates Non-Thermal Propagation (NTP) technology from the automotive industry, effectively isolating heat diffusion inside and outside the battery pack, enhancing system stability and safety. By adopting a compact design and advanced manufacturing techniques and optimizing cluster-level dimensions, it can increase single-box energy by 45.6% and single-battery volume energy by 12.1%. This results in a double-digit reduction in both battery and system costs, meeting the high economic demands of the energy storage market.
EVE has recently signed separate strategic agreements with Wärtsilä and TAE, aiming to drive the decarbonization of the global energy market. This collaboration follows the company's partnerships with international clients such as Powin, ABS and GoodWe in the global energy storage market, demonstrating international customer support and signalling that EVE's battery products have gained recognition from international partners and will become part of more robust global supply chains. Moving forward, the influence of EVE products will continue to grow, contributing to the ongoing global "zero-carbon" transition.
The energy storage industry is in a highly prosperous phase at present. According to analysts, global battery shipments reached 91.6 GWh in the first half of 2023, with EVE Lithium Energy shipments ranking third during this period. EVE currently has 13 production bases, 7 sales companies and offices both domestically and internationally, allowing it to meet the demands of international development. The company has recently announced the establishment of manufacturing facilities in Malaysia and Hungary, further expanding its global footprint.