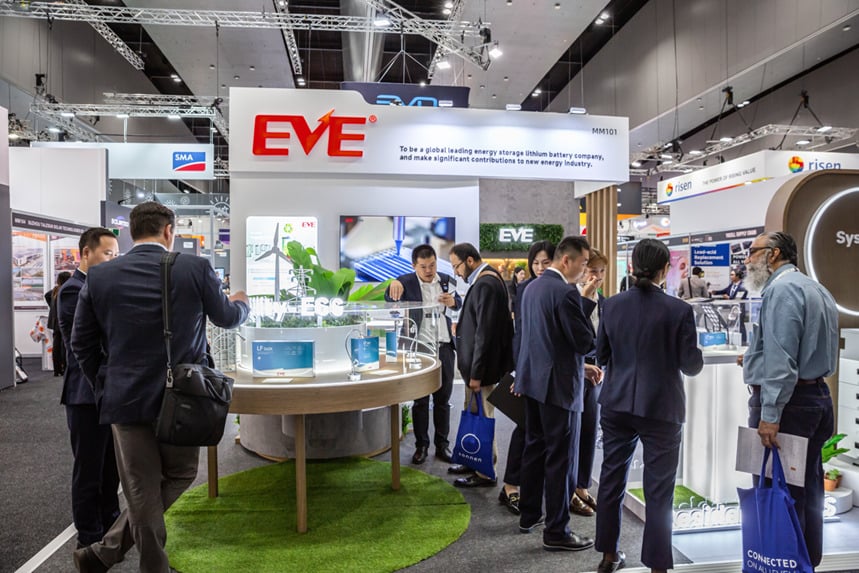 EVE Energy has exhibited at the 2023 edition of All Energy Australia in Melbourne, displaying a portfolio of key products for various sectors of the ESS market.
Among solutions showcased at the event was the company's "Mr. Big", the industry's first super-large laminated smart battery dedicated to energy storage, with an ultra-large capacity of 628Ah and 12,000 ultra-long cycles. The new "Mr. Giant" 5MWh standard energy storage system, configured with "Mr. Big", was also on display. By reducing the number of battery cells by 35% and simplifying 47% of pack components, EVE Energy has increased the energy storage container capacity by 45.7% and by implementing automotive non-thermally propagating (NTP) technology, the stability and safety of the system can be greatly enhanced.
EVE has already established cooperation with global energy organisations, participating in the construction of smart grids for China's State Grid and Southern Power Grid and launching an energy storage battery project with Linyang Energy. The company has also signed strategic cooperation agreements with overseas organisations Powin, Wärtsilä and ABS.
As one of the world's top 3 energy storage battery companies in terms of shipments, EVE Energy is capable of global manufacturing, delivery and services. It has 13 production bases and multiple sales and service centers worldwide, having purchased land for a factory in Hungary and commenced construction on a facility in Malaysia. With the recent announcement of plans to invest in creating battery capacity in the US, the company is extending its globalization strategy and accelerating its global carbon reduction activities.