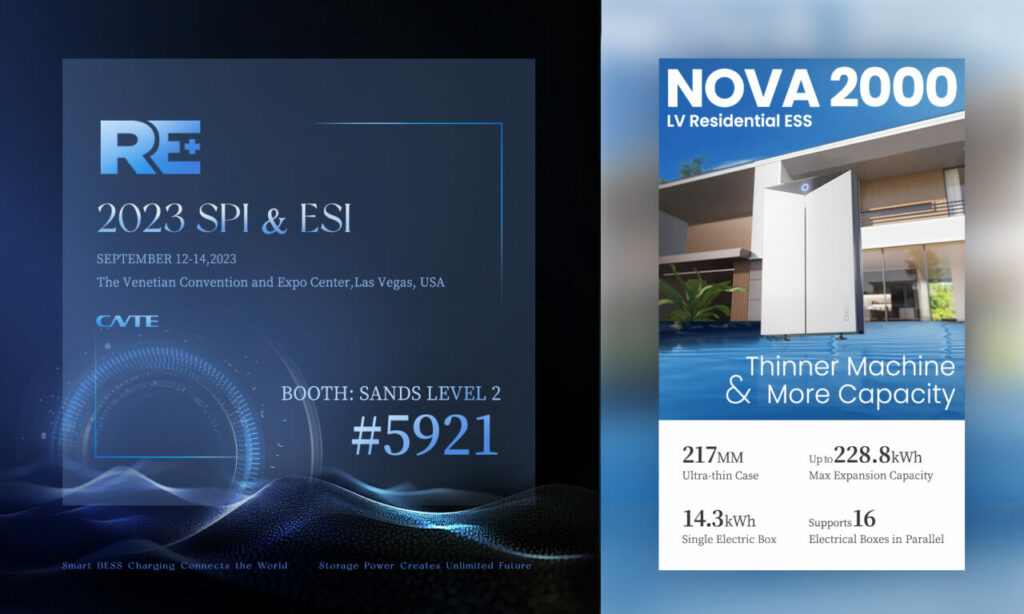 Leading lithium battery energy storage system integrator Contemporary Nebula Technology Energy (CNTE) will take part in the 2023 edition of RE+ in Las Vegas, showcasing for the first time its portfolio of upgraded all-scenario energy storage solutions.
A high-tech company, with investment from CATL, CNTE combines the advantages of CATL in electrochemistry and lithium energy storage technology to provide customers with energy storage solutions including smart BESS charging and testing stations, C&I, utility-scale and residential ESS and portable power stations.
The CNTE C&I ESS features a liquid cooled battery system, equipped with perfluorohexanone electric box fire protection. Compared with traditional air-cooled systems, the solution has higher energy density, lower power loss, smaller temperature difference between battery cells and higher safety protection levels, which can result in better backup power for factories and commercial buildings.
The company's C&I projects have already been deployed around the world, including in Africa and the Czech Republic and, based on the US clean energy quota system standards and subsidy policies, the C&I ESS has commercial value in green electricity consumption, peak shaving, power quality improvement and emergency power backup.
The CNTE Yoshopo Nova 2000 low voltage residential ESS features a lithium iron phosphate battery with a cycle life up to 8,000 times. The capacity of a single electric box is 14.3kWh and can be expanded to 228.8kWh in parallel. The thickness of the box is only 217mm, which makes it suitable for both indoor and outdoor application scenarios. With IP66 high protection level, the battery cell can be charged at low temperatures, solving the well known problem of being unable to charge in winter.
This year, the installed capacity of the US residential energy storage market has increased in each quarter and, going forward, community solar programs and net metering policies will have a positive impact on the sector, which is expected to continue to see significant growth.
The company's smart BESS charging and testing station is a combination of PV, energy storage and charging and testing, equipped with cafeteria, lounge, automobile service and maintenance. In contrast to traditional charging stations, the CNTE product adopts a DC bus architecture, which can completely isolate the impact of high-power charging loads on the power grid and is currently an effective solution to the need for rapid and stable charging of electric vehicles and the large-scale popularization of overcharging stations. Through its energy management system, the station can integrate with the power grid, renewable energy, energy storage system and charging facilities to form an intelligent micro-grid system and, with the support of AI algorithms, efficient power distribution can deliver higher returns.
The product is already in use in dozens of provinces and cities in China and has formed a mature set of standardized solutions which can help the construction of a global urban supercharging infrastructure.