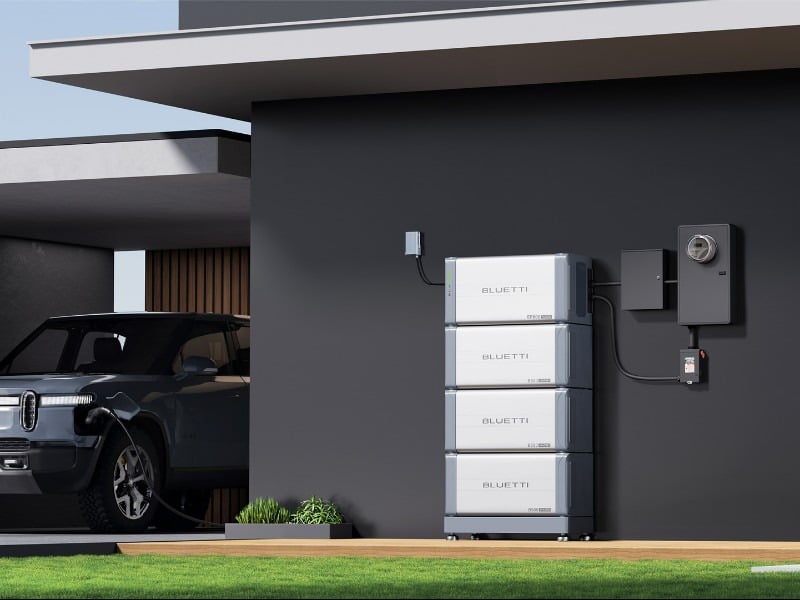 BLUETTI has launched its latest innovation, the EP800 & B500 off-grid energy storage system, aimed at enabling homeowners to take control of their energy needs, including during unexpected power outages.
Meeting Escalating Demand
The unveiling of the EP800 system directly caters to the surging demand for dependable energy solutions, driven by the power outages that have occurred with increasing frequency in recent years.
Introducing the EP800 System
The EP800 energy storage system closely follows in the footsteps of its predecessor, the EP900, embracing the same modular design philosophy. With exceptional capacity, output and flexibility tailored for home backup, it presents homeowners with superior alternatives to noisy gas generators or underpowered batteries.
Key Features of the EP800
High Output: The EP800 boasts a maximum continuous output of 7,600W at either 120V or 240V, making it suitable for powering a wide range of appliances simultaneously.  
Modular Design: With the option to add multiple battery packs, the EP800 can provide between 9,920Wh to an impressive 19,840Wh of capacity, ensuring most homes can run for days using stored power alone. No longer will homeowners need to make difficult choices about which appliances to power during an outage.
Solar Compatibility: The EP800 can be charged using solar panel arrays, allowing users to harness renewable energy. Equipped with dual MPPT charge controllers, the product can maximize solar energy at a rate of 9,000W. It stores excess solar power in the battery pack and ensures a steady power supply during night time or whenever it's needed most. This capability is a game-changer, particularly for users living in remote areas or regions with unreliable power grids.

Simplified Monitoring: Homeowners can monitor and manage their EP800 systems through a user-friendly mobile app, including but not limited to checking the battery level, energy consumption and renewable energy generation.
Efficient and Quiet Operation: The EP800 is designed for efficiency and minimal noise. It operates smoothly within a temperature range of -4F to 122F and produces noise levels comparable to a kitchen refrigerator.
Investing in the Future with EP800
The BLUETTI EP800 battery system is a sound long-term investment for both the individual and the environment. With a minimum 10-year lifespan (backed by BLUETTI's 10-year warranty), the EP800 system translates to an economical daily cost of approximately USD 3. Homeowners can offset this upfront expense by storing free solar energy and cheap grid power during off-peak hours, potentially leading to passive income for years to come.
In addition, compared to traditional generators that rely on expensive gasoline, the EP800 stands out as an economical and eco-friendly backup power solution. It harnesses renewable energy and produces no harmful emissions, contributing to a sustainable future.
Availability and Pricing
The BLUETTI EP800 & B500 energy storage system is available on BLUETTI's official website from September 15th, with a debuting price starting from USD 5999.