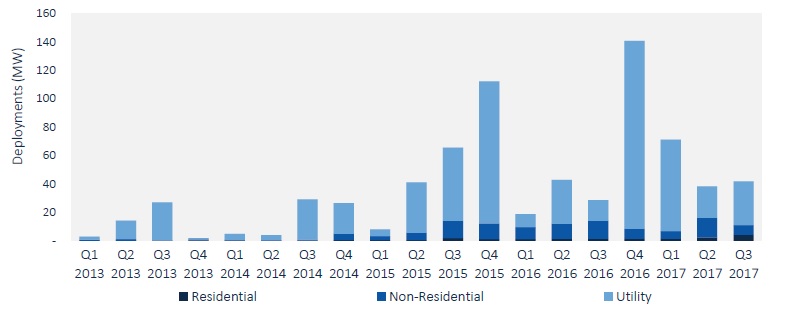 With energy storage deployments in the US up almost 50% year-on-year, according to GTM Research analysis, the next big question for the industry might be who gets to own all of the assets.
In the latest edition of PV Tech Power, Solar Media's downstream tech journal for the global PV industry, Jigar Shah, clean energy entrepreneur and financier says in an interview that he expects 2018 to be a year that utilities in the US start to carve themselves a bigger stake in the nascent industry.
This article requires
Premium Subscription
Basic (FREE) Subscription
Enjoy 12 months of exclusive analysis
Regular insight and analysis of the industry's biggest developments

In-depth interviews with the industry's leading figures

Annual digital subscription to the PV Tech Power journal

Discounts on Solar Media's portfolio of events, in-person and virtual
Or continue reading this article for free
Speaking in the 'Storage & Smart Power' section of the journal, which is brought to you by the Energy-Storage.News team, Shah says that many utilities in the US, that were similarly sceptical on the potential of solar PV some years back before beginning a wave of deployments and acquisitions, are increasingly seeing the value of energy storage.
"Energy storage has broken through such that utilities [in the US] admit that their value is very high, at least to a 3.5% penetration," Shah says in the interview.
"The fight now is really about who owns the storage – I am inclined to believe that the utility companies will win that battle."
In solar, there was a long period – still extant in some states of the US – when utilities were often accused of trying to shut down the industry, particularly rooftop PV. Having seen their retail electricity business eroded and less and less customers fully reliant on the grid, utilities were often accused by the industry and advocates of lobbying against solar through self-interest. The picture is now rapidly changing, with major utilities such as Duke Energy and California's main investor-owned utilities all prolifically deploying renewables.
The change in dynamic regarding energy storage has come much quicker, it seems, and Jigar Shah is expecting the "fight" he referred to, to be fought aggressively by the utilities.
"They will make sure that private owners of batteries don't get paid a fair return – similar to what has happened to the demand response markets," he said.
Energy-Storage.News asked GTM Research analyst Dan Finn-Foley, who specialises in front-of-meter energy storage, whether he thought a tussle over ownership of energy storage was likely to be a characteristic trend of 2018's US energy storage market. Finn-Foley was a little more reserved than Shah, but broadly concurred with his point that utilities will want to take a bigger slice in future.
"I would agree that ownership model is going to be an exciting trend – utilities are continuing to recognise the value of storage – as evidenced by the rash of IRPs (Integrated Resource Plans – long-term utility planning) including storage," Finn-Foley said.
"So expect them [utilities] to want to own the asset as many move beyond pilot-scale systems towards scaled deployments.
Jigar Shah believes the utilities will begin to shift towards this strategy in 2018, but it will take longer than that for them to be successful. Nevertheless, 2018 will be the year utilities "all decide that will be the strategy, he said. Shah said his company Generate Capital, recently given access to around US$200 million to invest on projects across a range of clean energy technologies, "will have to innovate harder" to remain involved.
2GW of energy storage in utilities' long-term plans
GTM Research's Q4 2017 Energy Storage Monitor report, analysing and reporting figures up to the year's third quarter, was published last week. It found there has been growth of 46% year-on-year in deployments, a 10% growth over the previous quarter.
The IRPs alluded to by Dan Finn-Foley earlier include almost 2GW of energy storage, across the long-term plans of 14 separate utilities. This is something seen only since around 2015, with utilities starting to shift strategy from centralised generation asset ownership to more distributed networks, using tools such as demand response. GTM said the size, use cases and geographic diversity of front-of-meter projects is increasing, and is expected to continue doing so.
While there appears to have been a perception that the duration of energy storage projects is increasing as a general trend, the MWh figure for deployments was actually only up by 5% year-on-year, from 40.4MWh in Q3 2016 to 42.5MWh in Q3 of this year.
The MWh split between behind-the-meter and front-of-meter installations was 54%-46%, due to the higher durations – around two hours on average – for those customer-sited projects, as opposed to utility-scale front-of-meter installations which are often used for providing ancillary, grid-balancing services such as frequency regulation that only require quick response and relatively short discharge durations. Conversely, in megawatt terms, behind-the-meter was just 26% of the total share, down from 42% in the previous quarter.
Expectations and forecasts
Dan Finn-Foley told Energy-Storage.News that there is increasing interest in hybrid projects, be they solar-plus-storage, wind-plus-storage, natural gas-plus-storage and so on. Over the next three years, the analyst said, the x-plus-storage space will "be a big factor".
Finn-Foley's colleague, Brett Simon, who focuses on the behind-the-meter segment, said deployments in that segment are still largely led by California and Hawaii due to the SGIP programme and the Customer Self-supply tariffs, supportive policies which incentivise or enable the business case for solar self-consumption.
"Some other states have begun to see increasing activity, with Massachusetts laying storage policy groundwork in 2017 including the SMART program which includes a storage incentive for solar-plus-storage projects, awards under the ACES program, and the state's storage mandate," Simon said.
"Massachusetts will be a state to watch in 2018," adding that the ACES programme is interesting as it explores a wide variety of value streams and business models. Brett Simon also expects to see increased behind-the-meter activity in regions including Arizona, Nevada, Colorado, and the Northeast US.
GTM's report forecasts annual deployments across all segments to reach 2.5GW by 2022, crossing the "1GW annual deployment threshold" in 2019, due to improved economics and broader deployment programmes. By 2021, behind-the-meter deployments (including non-residential commercial and industrial storage) will make up half of the annual market, the firm predicts. In five years' time, the US market could be worth US$3.1 billion, GTM assessed.
Download Volume 13 of PV Tech Power, the quarterly technical journal for the global downstream solar PV industry, including 'Storage & Smart Power', presented by Energy-Storage.News in full, or as separate technical papers, here. Includes the in-depth interview on financing and energy storage with Jigar Shah.