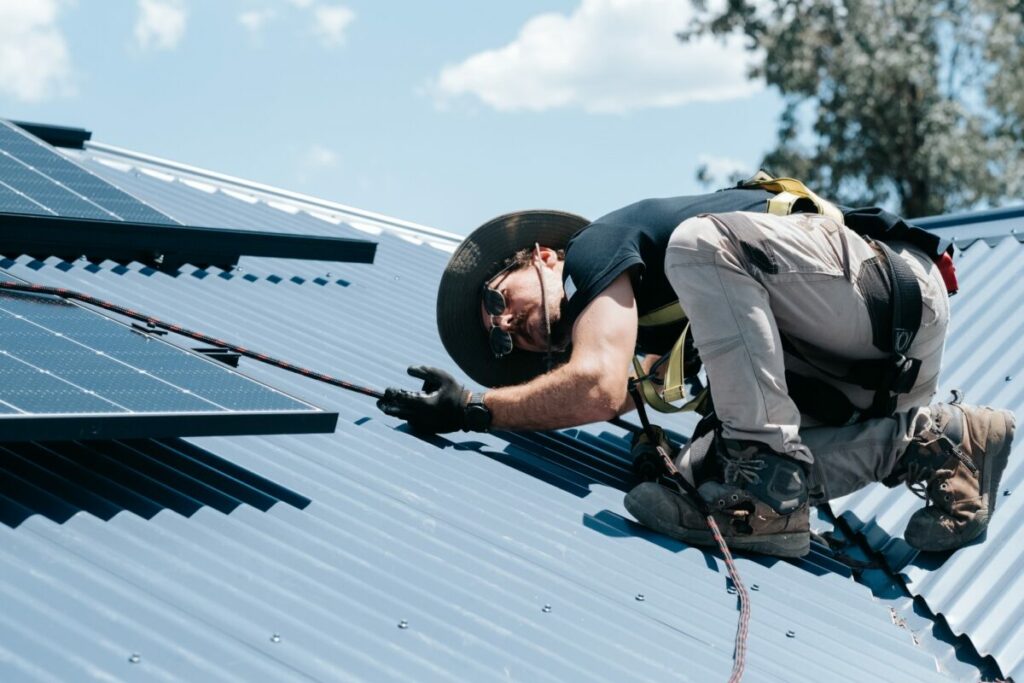 Battery storage can give the millions of Australian households going solar "a sense of empowerment and control", writes Joel Power from Smart Energy.
With the global shift towards renewable energy gaining significant momentum, solar energy and batteries are taking charge of offering consumers a more sustainable and independent source of energy.
This article requires
Premium Subscription
Basic (FREE) Subscription
Enjoy 12 months of exclusive analysis
Regular insight and analysis of the industry's biggest developments

In-depth interviews with the industry's leading figures

Annual digital subscription to the PV Tech Power journal

Discounts on Solar Media's portfolio of events, in-person and virtual
Or continue reading this article for free
Figures from industry advocate SunWiz suggest more than 47,000 residential batteries were installed across the country last year, a 55% leap on the previous year.
It was also recorded in 2022 that one battery was installed for every seven solar systems added to the network, compared with one for every 12 new solar installations the year before, with around 180,000 Australian households now having a battery system.
The desire for energy self-sufficiency has become a prominent driving force for homeowners to adopt battery storage systems. While solar energy offers numerous benefits, batteries offer consumers a sense of independence. While transitioning to renewable energy aids in reducing electricity expenses, the advantages extend beyond that.
By diminishing reliance on the traditional power grid and moving to stored energy, home owners attain a sense of empowerment and control over their electricity supply.
Beating extra tariffs
Following recent announcements, such as the Australian Energy Market Commission (AEMC) decision to levy a fee on solar users, families throughout the country are bracing themselves for additional financial strain, and solar users are searching for a way to retake control of their power.
Energy providers such as Ausgrid have presented proposals to regulators that would result in households being charged between 0.94 cents (US$0.0064) per kilowatt hour (c/Kwh) and 3.6 c/Kwh for exported energy, surpassing established thresholds.
Despite the Australian Energy Market Commission clarifying that the solar export tariff is designed to ease 'traffic congestion' through a two-way pricing mechanism, there is still a lack of transparency surrounding the precise amount of the fee hike for solar users.
Therefore, Australian households are concerned about the possibility of shouldering an extra cost that could worsen the existing cost of living crisis, which is already placing significant strain on households nationwide.
Battery storage systems have emerged as a key enabler in addressing this issue. These advanced devices allow excess electricity generated by solar panels during peak production periods to be stored and used when solar energy is unavailable.
By providing a reliable and continuous power supply, battery storage systems have unlocked new possibilities for solar energy consumption and enhanced energy independence.
Benefits for consumers
The rise of battery storage solutions has empowered consumers in several ways. They enable households and businesses to maximise the utilisation of their solar energy systems by storing surplus electricity for later use. This flexibility not only reduces reliance on the grid but also helps lower electricity bills and improves overall energy efficiency.
Battery storage solutions offer backup power during grid outages, ensuring a reliable energy supply even during emergencies. This is particularly important in regions prone to natural disasters or areas with unreliable grid infrastructure.
Through battery storage, consumers can maintain essential services, power critical appliances, and stay connected, enhancing their resilience and quality of life.
Battery storage systems contribute to the overall stability and reliability of the electricity grid. By storing excess solar energy and releasing it back into the grid during peak demand periods, these systems help alleviate strain on the grid infrastructure, reduce transmission losses, and mitigate the need for expensive grid upgrades.
The future is batteries
As battery technology continues to advance and costs decline, the adoption of battery storage solutions is expected to skyrocket. Innovations such as lithium-ion batteries, improved energy management systems (EMS), and smart grid integration are enhancing the efficiency, reliability, and affordability of these solutions.
Governments and utilities providers worldwide are recognising the potential of battery storage in transforming the energy landscape. Incentives, grants, and favourable policies are being introduced to encourage the deployment of battery storage systems, making them more accessible to consumers and accelerating the transition towards a sustainable and decentralised energy system.
Battery storage solutions are revolutionising the solar energy sector, allowing consumers to harness the full potential of solar power while overcoming the limitations of intermittency. By providing energy independence, cost savings, and grid stability, these solutions are empowering individuals and businesses to actively participate in the clean energy revolution.
About the Author
Joel Power is head of battery storage and dealerships at Smart Energy, a vertically integrated solar PV solutions provider headquartered in Byron Bay, Australia and founded in 2016.