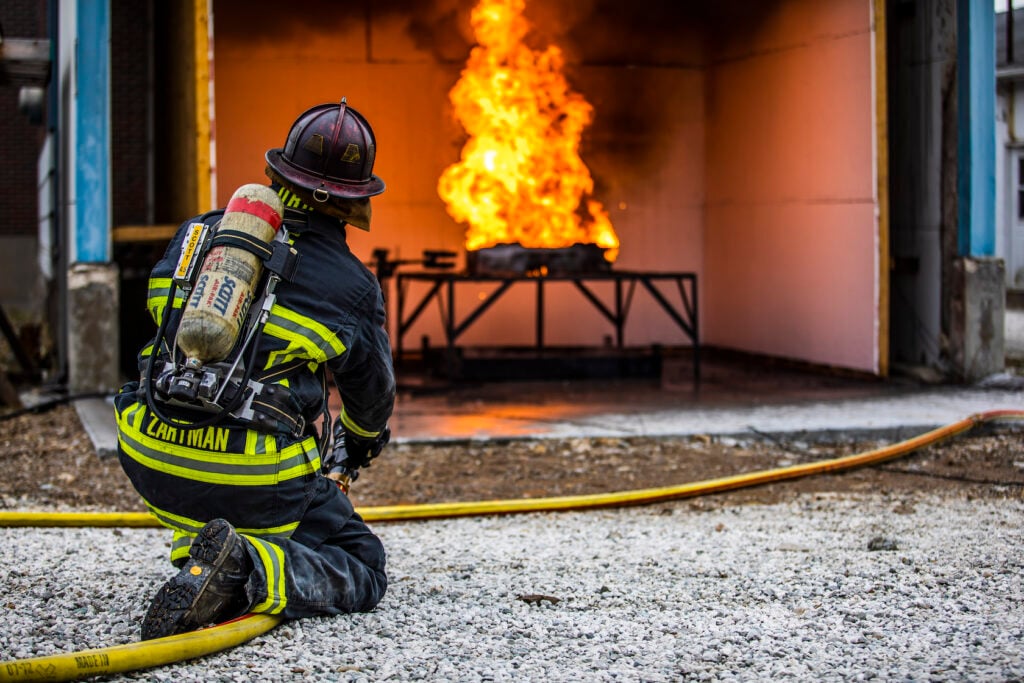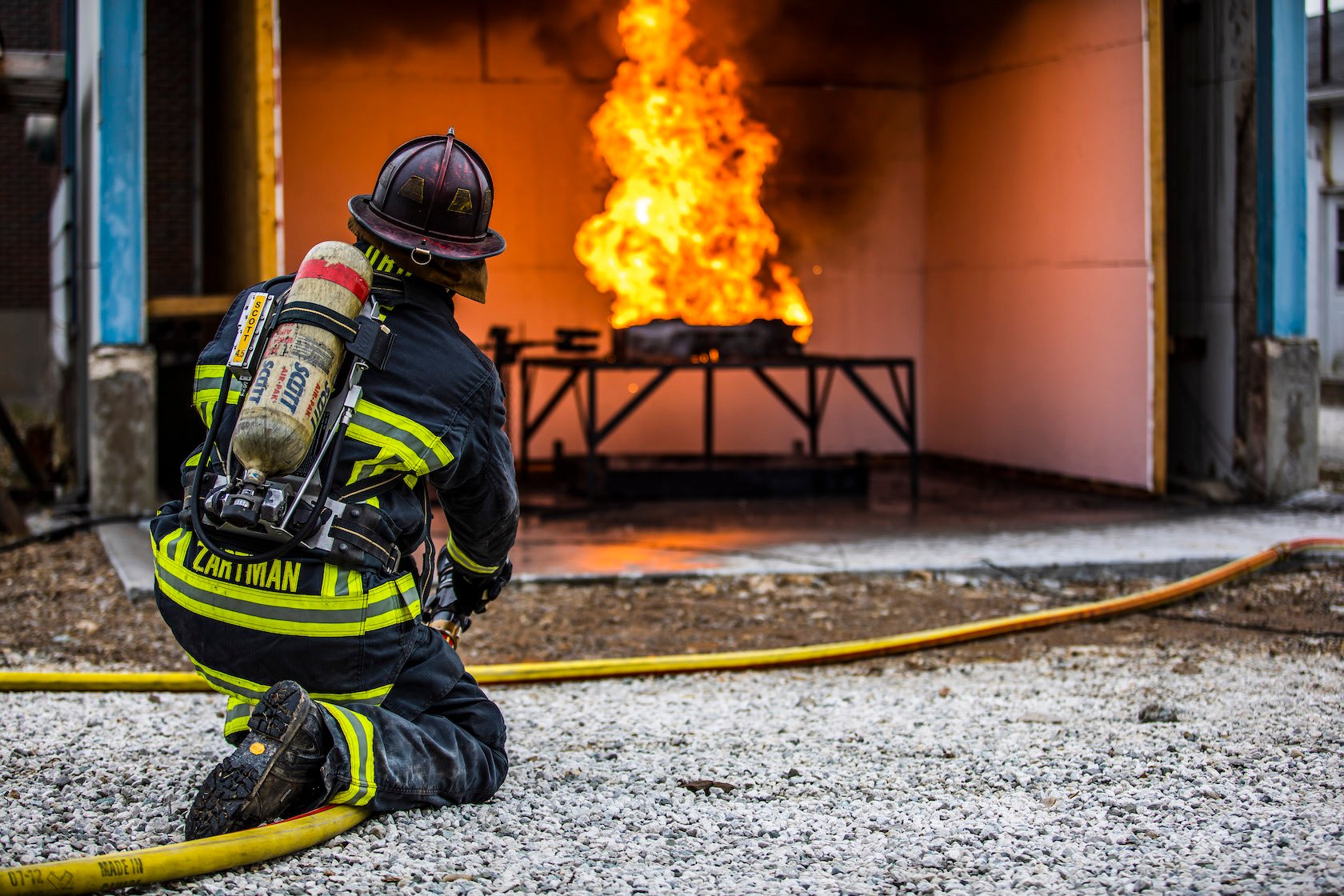 With over 25 years' experience as a firefighter and now part of a group that specialises in battery storage safety, Paul Rogers at Energy Safety Response Group knows all about fire safety from both sides of the fence. He tells Andy Colthorpe about some of the pressing issues that need attention.
This is an extract of an article which appeared in Vol.29 of PV Tech Power, Solar Media's quarterly technical journal for the downstream solar industry. Every edition includes 'Storage & Smart Power,' a dedicated section contributed by the team at Energy-Storage.news.
This article requires
Premium Subscription
Basic (FREE) Subscription
Enjoy 12 months of exclusive analysis
Regular insight and analysis of the industry's biggest developments

In-depth interviews with the industry's leading figures

Annual digital subscription to the PV Tech Power journal

Discounts on Solar Media's portfolio of events, in-person and virtual
Or continue reading this article for free
Lithium-ion battery storage has become a bankable, go-to technology for keeping power grids stable and for the integration of renewable energy. Yet, as deployments around the world grow, it's increasingly important to make sure everyone from policymakers to the general public can be confident that this relatively new technology is safe. Energy storage system fires are rare, but they can happen.
Local planning and permitting authorities and code officials are gatekeepers that could determine whether the world gets the energy storage it needs.
Meanwhile it's firefighters that will be called upon, should anything go wrong. Relationships with these stakeholders matter.
In the US, Energy Safety Response Group (ESRG) was formed by a group of battery experts and experienced firefighters, offering fire safety services to everyone from energy storage manufacturers and project developers, to code officials and authorities having jurisdiction (AHJ), utilities, insurance companies and more.
ESRG's role in the industry includes educating firefighters on what to do in the event of a battery storage fire, but also, educating the industry on how to talk to firefighters, code officials and other stakeholders.
ESRG founding principal Paul Rogers was himself a Fire Department of New York (FDNY) Lieutenant for over 25 years. He led a project on energy storage systems (ESS) for the Bureau of Fire Prevention, becoming an ESS Subject Matter Expert (SME) in the process.
Preparing for all eventualities
Local plans examiners and code officials are beginning to understand that they need to look more in depth at fire safety for energy storage, he says, although new codes are very technical and tricky to understand.
On the other hand, the "vast, vast majority" of people supplying and deploying battery storage systems are behaving responsibly in trying to eliminate fire safety issues.
"They're building the systems so as to reduce the risk of these systems ever going on fire. We at ESRG look at it from what happens when it does go on fire."
Firefighters will always look at any new technology, especially energy tech, from that perspective, Rogers says. His team blend those two viewpoints: what to do in the event that a system does catch fire, versus how to operate a system so that it doesn't.
Energy storage industry professionals might also not think about what fire crews will need on the scene of an incident. As well as fires, explosions are a potential risk if gases are allowed to build up inside a system or enclosure.
While deflagration vents or fencing can manage that risk, ESRG looks at the worst case scenario.
What happens if the deflagration technology doesn't work, perhaps because fans aren't working or smoke release overwhelms the fan, in which case a lower explosive limit can result?
"We look at the impact. How is that impact going to affect the surrounding areas, and most importantly, the firefighters that are going to be up close and in front of these things?"
NYC's learning curve
When lithium-ion batteries were first coming into New York City, the fire service really did not know much about them, Rogers says.
"One of the first questions that we'd ask is, 'what happens when they go on fire?'"
The response given was: 'they don't go on fire'.
But, as firefighters know, anything can potentially go on fire, "especially when there's energy stored inside of it," he says.
After extensive testing, Rogers and his then-colleagues at the FDNY realised energy storage fires are "low frequency, high risk events".
"The fire department won't be going to many of these things at all. But when they do, it's going to be very, very high risk. That's why these could be dangerous for the fire service".
A few years ago in New York, there had been many proposals to put lithium-ion battery systems into high rise buildings as replacement for lead acid batteries acting as uninterruptible power supply (UPS) units. This quickly became a concern for the fire department. Rogers identified that the explosion risk, even more than fire, was something totally new to have to deal with.
"As we started to know more and more about the lithium-ion batteries, with the idea of potential explosion hazards, the high heat release on the batteries themselves and the stranded energy after the fire has been dampened down, the reignition problems that they have, I went to the fire chief and said: 'I'm not concerned about these things being on fire, I'm concerned about after the fire, what do we do post-operations?'"
This is also important, because the fire service needs to know when it's safe to call a situation as fully dealt with.
"Just recently out in Long Island, they had an incident where it was solar hooked into an energy storage system. They sat on it for four days! We see many examples of this around the country, where the fire service is sitting on it, wondering 'when can we leave?'"
Fighting fires, fighting misinformation
Of course it's not only firefighters that need to be comfortable with the safety aspects. ESRG is working in numerous regional energy storage markets around the US, including Massachusetts, California, Arizona and Texas.
Often, code officials are getting access to very shallow, or even plain wrong, information. Rogers said he was teaching a class where it became clear some of the students, including code officials, had been getting information from browsing the internet. Some had read that in the event of an ESS fire, people would need to be evacuated to at least a mile away. Simply not true.
"That becomes a major challenge in itself as the education is not there for people that are reviewing it, and don't
feel comfortable allowing these things in. They don't have the information, as they're looking to install these things inside their jurisdiction."
Rogers refers to a recent academic paper comparing the explosion risk of battery storage to weapons of mass destruction. Its authors didn't understand how an energy storage system can fail and what happens when one does.
"They were trying to put everything together as if all of this system would blow up simultaneously, and that's not true at all. It is not how energy storage systems fail. There's cascading failures, it doesn't fail all at once. And if it goes on fire, the fire is consuming any gases that may be liberated as a result of the heat itself."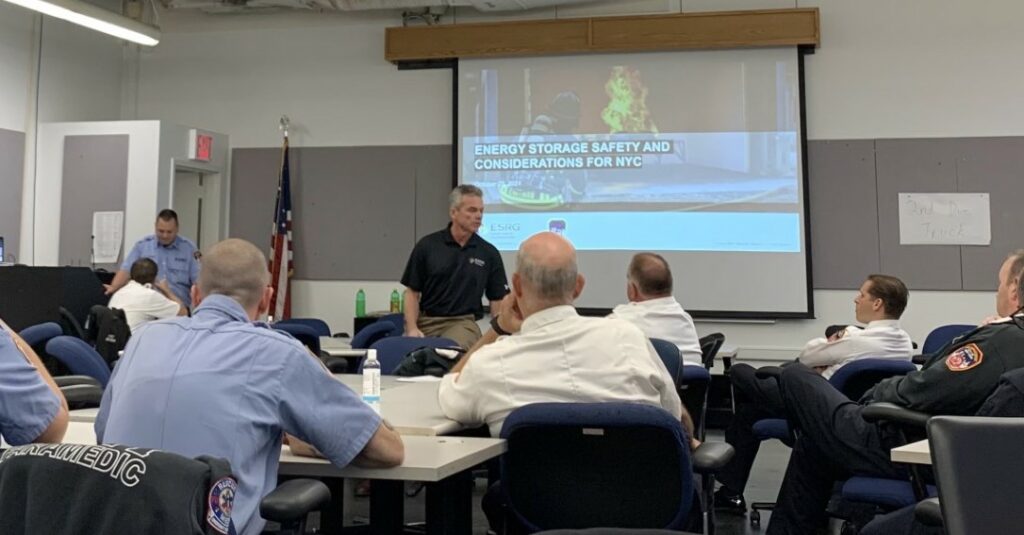 Know your audience
The industry needs to be proactively communicating directly with stakeholders, in language that can be plainly understood. Rogers said many already understand this need to communicate and that "word is getting out there that you probably need to start to speak to the fire service sooner rather than later".
Successfully talking to the fire service means explaining exactly what the potential risks are. Then making them aware of the different layers of safety features and procedures that would need to be compromised for those worst-case scenario events to happen. Using the language, or jargon, that the fire department can understand is really important too, Rogers adds.
This is an extract of an article from Volume 29 of PV Tech Power, our quarterly journal. You can buy individual issues digitally or in print, as well as subscribe to get every volume as soon as it comes out. PV Tech Power subscriptions are also included in some packages for our new PV Tech Premium service.