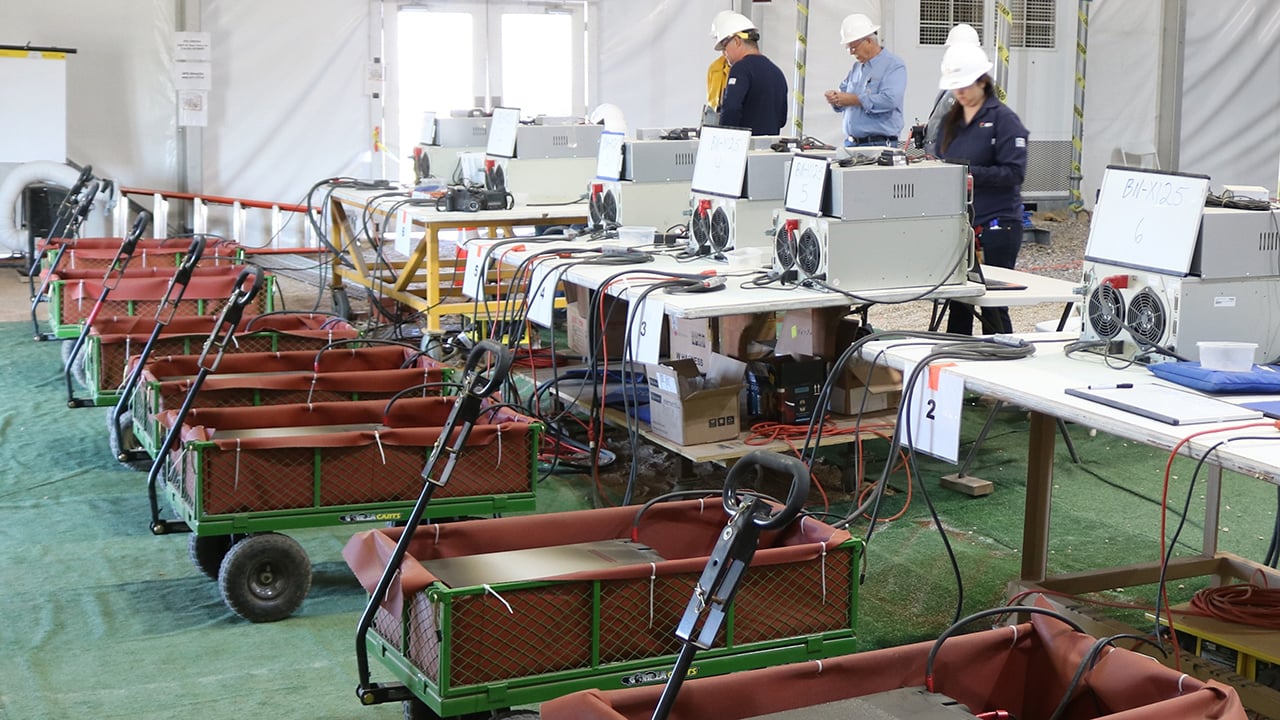 An April 2019 fire and subsequent explosion which caused injuries to firefighters and destruction of a grid-scale battery storage system in Arizona likely started with an internal cell defect that caused the "preventable" incident, analysis has found.
Utility Arizona Public Service (APS) commissioned an investigation just three days after the incident, with experts performing an environmental assessment of the facility and site, a forensic analysis and inspection of evidentiary data to determine the origin of the blaze as well as the explosion, as well as the review the suitability of fire suppression equipment in place. Project partners AES, which developed the project, Fluence, which supplied the system and LG Chem which supplied the batteries, also took part in the investigation.
This article requires
Premium Subscription
Basic (FREE) Subscription
Enjoy 12 months of exclusive analysis
Regular insight and analysis of the industry's biggest developments

In-depth interviews with the industry's leading figures

Annual digital subscription to the PV Tech Power journal

Discounts on Solar Media's portfolio of events, in-person and virtual
Or continue reading this article for free
Further to that investigation, a team from DNV GL was asked by APS to perform technical analysis of the event at McMicken Battery Energy Storage System in West Valley, Arizona, characterised as thermal runaway leading to an explosion. The project featured a 2MW / 2MWh battery energy storage system (BESS). DNV GL has also made recommendations that would reduce the chances of another such event taking place at other storage facilities.
It took around two hours from the first report of a suspected fire at the facility, at 17:48 local time on 19 April 2019, to around 20:04 before an explosion happened from inside the BESS. The BESS and its container was "essentially destroyed" and the incident left several firefighters injured. All that was known at the time was that an equipment failure had taken place in the incident, which brought fire safety back to the top of the agenda for the energy storage industry.
Internal cell failure began chain of events
DNV GL's energy storage team leader, Davion Hill, wrote in his report that "an extensive cascading thermal runaway event" began through internal cell failure within one LG Chem 0.24kWh nickel manganese cobalt (NMC) pouch cell in the BESS – believed to a "reasonable degree of scientific certainty" to have been the product of an internal cell defect involving abnormal deposition of lithium metal and dendritic growth within the cell.
The report found that the fire suppression system onsite worked as designed to but was inadequate to prevent or stop the cascading thermal runaway. Heat transfer between every cell and module in one of the battery racks caused the thermal runaway to propagate – facilitated by the absence of "adequate thermal barrier protections between battery cells," which could have stopped or slowed the propagation.
Some three hours after the thermal runaway was thought to have begun, firefighters opened up the BESS door, which agitated flammable gases that remained and brought the gases into contact with a spark or heat source – causing the explosion.
DNV GL said that standards today informing first responders on how to deal with incidents at such systems are already more advanced than they were when McMicken went online in 2017, but also recommended that hazard assessments and corresponding training should take place "before and during the commissioning of energy storage systems". At this year's Energy Storage Digital Series online conference, attendees heard from several industry representatives that storage stakeholders should work closely with and educate first responders in areas where systems are deployed.
The McMicken system was one of two 2MWh battery projects put in place by APS with AES as EPC contractor and installer to investigate the use of energy storage on its networks, including the ability for BESS to help integrate growing shares of rooftop solar PV in the utility's service area.
On the day of the incident, the BESS was performing solar smoothing applications – charging during the daytime from local solar generation and discharging electricity to the grid during the evening peak load. Data collected by APS found that just before 5pm on 19 April, there was a sudden drop in voltage during one of the system's charge cycles.
Thermal runaway began shortly after that. Smoke detection systems went into operation but off-gassing of battery cells as the thermal runaway cascaded through neighbouring modules caused a "flammable atmosphere within the BESS," the DNV GL report said. Then, when firefighters opened the side container door around three hours after thermal runaway began, an explosion occurred within 2-3 minutes, causing the side and rear doors of the BESS as well as other debris to be ejected by the explosion.
Timeline of events leading to explosion – taken from DNV GL's report
| 16:54:30 | Battery voltage drop of 0.24 V in rack 15, module 2, battery 7 (4.06 to 3.82 V) |
| --- | --- |
| 16:54:38 | Total voltage drop of 3.8 V in rack 15 (799.9 to 796.1 V); BMS loses module level data |
| 16:54:40 | Temperature readings begin to increase in the rear of rack 15 |
| 16:55:20 | BESS smoke alarms 1 and 2 activate and the fire protection system triggers several circuit breakers to open (BMS DC breakers, inverter AC contactors, main AC breaker) |
| 16:55:45 | Ground fault detected |
| 16:55:50 | Fire suppression system discharges Novec 1230 suppression agent (30 second delay from alarm time, as per its design) |
| 16:57 | APS contacts Fluence to verify the fire suppression system discharged |
| 17:07 | Fluence advises APS that its Field Service Engineer is en route to the site for visual confirmation of potential fire |
| 17:12 | APS dispatches a Troubleman to the site |
| 17:40 | Fluence field service engineer calls 911 to report suspected fire |
| 17:44 | APS notifies 911 End of data collection and cessation of remote communications (end of battery backup power for main servers and communications equipment) |
| 17:48 | Fire department arrival time |
| 20:02 | Front door of container opened by emergency responders |
| 20:04 | Explosion occurs |
Recommendations and best practices can prevent similar incidents
In response to a number of fires at BESS projects in South Korea over a period of about a year, beginning in August 2017, DNV GL had said previously that it was important that minor defects or other issues did not lead to more catastrophic failure situations. The group noted in its report on the McMicken fire that those incidents were associated not only with NMC batteries but also happened in some cases with lithium iron phosphate (LFP) cells. Those fires were initially thought to have been primarily caused by inappropriate system integration practises, but were later also found in many cases to have been the result of defective battery cells.
"The lessons the industry has learned from these incidents is that Li-ion batteries are inherently fragile, and any electrical, thermal, or mechanical abuse, along with internal defects, can potentially initiate cell failure and thermal runaway," the DNV GL McMicken incident report said.
DNV GL concluded that certain best practices available to the industry could have prevented the tragic incident in Arizona, beginning first with addressing cell quality. Further to that, barriers to limit or prevent cascading could be put in place, both from cell-to-cell and module-to-module. Better means to safely ventilate the system would have meant dissipation of flammable gases before first responders gained access, while strategies for extinguishing fires inside systems including fire suppression, ventilation and cooling "should be a requirement going forward," the report said. DNV GL also noted that many standards are now in place that were not at the time of the system's commissioning, including relevant standards from the National Fire Protection Association (NFPA).
APS has made the DNV GL-authored report available online and it can be viewed here.
Read "Safety and efficiency first in solar-plus-storage systems," a technical paper from experts at TÜV SÜD, published on this site earlier this year.